5 Take-Away's from A Decade of Real Estate
As we are confidently moving out of the recession, there are many first-time buyers who, thankfully, won't have to experience some of the problems homeowners faced during this recent decade. Financial experts are vigilant to alert us to "bubbles" occurring in any market these days…almost to a fault.
As with any negative experience, there are many positive take-away's that serve to educate us and add to our financial intelligence. Here are 5 take-away's from a decade of real estate and the lessons we can learn from those housing woes?
Don't buy a house that puts you at risk
That's the best way I can say: don't overspend…but also, don't buy too small either. Your lender will give you a loan limit, based on your debt-to-income ratio. But you don't have to spend up to your limit. You must decide what your comfort limit is, and ask that crucial question, "Can I afford to live in this house?" If you overspend that, you are at risk in 3 ways:
You risk being house-poor. With every extra penny going to a mortgage, you risk quality of life. This is a personal decision.
You risk by not having any margin in your finances. What if one family member looses a job, or gets a decrease in pay or employment? Again, only you can decide your risk tolerance.
You risk other financial goals when you overspend on a home. Over time, those unmet goals, whether they be travel, education, or future savings, take a toll on your quality of life. Be certain.
On the other hand…sometimes being too conservative is not the right choice. Buying a house that won't meet your needs in the next 5 years also puts you at risk.  When you are cramped for space and need to sell, you won't have the equity to cover the costs.
If you are in a position in which you are certain of increasing income over the next few years, you may want to consider buying a larger home at the top of your price range. The choice is, of course, yours, and the risks need to be assessed. If you buy a house that is going to be too small when you have an addition to the family next year, or that isn't in your preferred school district, for instance, that will be a problem. Sometimes it's the right decision to stretch. (always consult a licensed financial adviser)
Use Your Realtor®! A good professional is key to navigating the lending rapids. Your real estate agent will have trusted lending professionals that they will recommend. Our team of professionals, whether lenders, title attorneys or home improvement, are interested in the best possible experience for you.
For Further Reading: Buyer Tips: Deciding How Much You Can Afford; Buyer Tips: Find the Right Home with A Checklist, Buying A Home with Built-In Resale Value
*  *  *
Buying a home is not for everyone
Home-ownership is still an integral part of the "American Dream", but it's not for everyone, not all the time. As a real estate professional who makes a living selling homes, I have to be honest and say, sometimes it's best to rent.
There are some general questions every potential home buyer should ask to determine if they are best suited for home ownership:
Is employment stable? Can you be fairly certain that you're employment and income will be stable for the next 5 years? Are you part of a start-up? Is your company downsizing? Is there a real possibility of relocation? If any of these are an issue, does your spouse or significant other have stable employment? While no one has a crystal ball, you can get a general idea of the stability of your income.
Are you planning to stay in the house for 5-7 years? (your market might be more, or less…consult a local Realtor® to be sure) If you outgrow your digs, or if you move to a new location for employment, you may not be able to gain enough equity in less than 5 years to cover the costs of selling your home, unless you have cash to bring to the table, or if there are some other circumstances, like buying a fixer and adding equity.
Are you aware of and ready for the costs of homeownership? There will be repairs and upkeep, homeowner's insurance, maybe Homeowners Association fees, property taxes and other miscellaneous expenses. Are you handy, or will you need to hire professionals?
Do you have an emergency fund? Are you disciplined about saving? To buy and maintain a home, you need to have a good grasp on money and a budget that really works.
Is your city or town truly your home? For at least 5 years, you will call your neighborhood home and you'll want to love living there.
For further reading: How Much House Can I Afford? , Buyer Tips: Hidden Costs of Buying A Home
*  *  *
Don't make the mistake of ignoring the resale potential of your house
It doesn't matter if the kitchen is to-die-for, when there are obvious resale issues: down-wind from the dump, under the power lines, in the flight path of the nearby airport, or it has functional obsolescence. You get the picture. Consult your real estate agent and listen to their advice about resale. A real estate agent isn't emotionally involved and they consider the potential of resale in their market.
When you need to sell in 5 – 7 years, or more, you want your home to be desirable to buyers at the time, as much as you can control that. So does your Realtor! You want to consider that when you make your purchase now.
For Further Reading: Looking Past the Pizazz of Home Interior/Exterior Design
*  *  *
Don't make the mistake of using a risky loan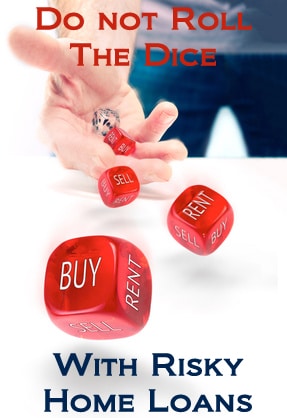 Many homeowners gambled that their home values would continue to rise, using risky ARM's (adjustable rate mortgages) and interest-only loans. When their interest rates adjusted, usually higher, they were underwater on their home values and couldn't refinance. This led to a wave of short sales and foreclosures, and home values sunk.
With today's incredibly low rates…see today's rates…there is very little need for risky financing. ARM's and interest-only loans should only be used by savvy investors and experienced buyers who completely understand the product.
For Further Reading: Buyer Tips: What You Should Know about Interest Only Mortgages, Buyer Tips: A walkthrough of the Mortgage Process, Make your home buying easier – Know your mortgage loans
*  *  *
Don't use your home as an ATM
While home values were increasing 1-% to 20% year-over-year in many cities, homeowners were refinancing in large numbers, some multiple times. When home values crashed, homeowners were left with larger monthly payments on homes that were worth much less. Those underwater homeowners who managed to keep their homes are just recently seeing their home values return.
*   *   *
The American Dream
Traditionally, home ownership has been seen as the primary way for everyday Americans to build wealth over a lifetime. Many of our parents bought a home, built equity over a lifetime, and retired with a healthy nest egg, due to appreciation over the years. The lost decade of the housing bubble was an anomaly from what homeownership truly is, and has many lessons in it.
As Millennials continue to enter the housing market, as 9 in 10 desire to do in the next few years, home-ownership is still considered a wise financial step to a secure future.  If you're considering a home purchase, you will do well to work with Anita Clark, real estate agent in Warner Robins Georgia and surrounding areas in Houston County. Read Anita's Trust Policy: Trust – Freely Given, Easily Taken Away!
*   *   *
What Anita Clark Can Do For You
If you are buying a home in Middle Georgia, Anita Clark has the experience and technological savvy to help you through today's complex process of a real estate purchase with the highest level of success. You'll find a Realtor® you can trust, works hard to find you the ideal home, keeps you informed, and understands and can harness the power of the Internet and social media.
Not only does Anita love being a Realtor®… her life experience is a huge asset to today's buyers. Anita is a 22-year air force spouse (retired) who has two grown daughters, and has moved many times! (Take it from me…a Navy-brat…the life experience gained from living in different locations, and even countries, relocating and learning new ways of life, is invaluable!) 
Buying a home is the most important financial decision most people make during their life.  From your first home, which often is the basis for future home buys, to your retirement home, it is important to work with a professional who is committed to represent your best interests.
*   *   *
For Further Reading
Anita Clark is a collaborator, not only with her local team of lenders, title attorneys, home improvement professionals and builders, but with real estate bloggers around the country. Consider reading some other great blog posts from Anita's blogging community:
Five Signs that You're Ready to Buy a House, by Andrew Fortune, Colorado Realtor®
How to Build A Credit Score Lenders Will Love, by Karen Highland, Frederick Md Real Estate Agent, and Blair Warner, Credit Counselor
It is important to remember that while starting online to begin your home search is smart, the practical tips in this article are what Wikipedia cannot tell you about buying a home!
If you enjoyed these 5 take-away's from a decade of real estate, please consider social sharing it so others can benefit from the information too. 
What Wikipedia Cannot Tell You About Buying a Home